Production flow management consists of organising the flow of materials and resources during a manufacturing process in order to optimise the production performance of a plant. Being able to locate equipment, goods and people precisely inside a plant has become one of the main challenges for manufacturers seeking to optimize their operational efficiency. One of the solutions implemented so far is MES (Manufacturing Execution System): software application that allows the management of increasingly complex situations and flows, and to be as close as possible to reality by collecting production data in real time. Providing complete traceability of manufacturing information, the role of this technology is to supervise machines and operators. One of the main difficulties in the deployment of MES solutions is to guarantee the perfect match between the "physical" and the "digital".
RTLS (Real-Time Location System) technology allows to gain efficiency based on the automatic and continuous retrieval of the positions of objects or people that matter for the production. The manufacturing process can then be controlled from the data transmitted in real time. In addition to this location information, it is possible to digitally exchange information directly with the users in the field, without the need for a printed document or a workstation. This wireless network is created by placing radio antennas (also called anchors or beacons depending on the radio technology: UWB, BLE, WiFi, RFID…) at key points in and around an installation. These antennas exchange short distance radio signals with radio tags, themselves associated with the equipment, goods or people to be geolocated. The data is sent back to a server which then calculates the real time positions using a triangulation type algorithm, received signal strength (RSSI), time difference of arrival (TDOA), etc. This calculation is performed by the localisation engine, which is part of the RTLS software.
Recently, hybrid RTLS and MES solutions have been developed to cover a wider range of use cases and to automate processes. The scheduling of tasks and the reaction to hazards can thus be carried out with up-to-date information and by anticipating the course of the next actions. For example, an operator can decide to move on to the next production order because he is informed that the part that was originally planned is still on the other side of the factory: the positions of all relevant objects can be visualized in real time on different terminals, which allows quick decisions to be made. The combination of location data and operational information ensures complete process transparency and identifies untapped optimization potential in the production lines.
Contact us for further information.
In addition to sometimes lacking financial resources, the management of medical equipment often represents an obstacle to the hospitals' optimal functioning. According to a Frost & Sullivan study, an average of 20% of equipment is lost each year, representing additional costs to replace them. Robberies are also sometimes observed. For instance, on December 24th 2020 at Poissy Hospital (Yvelines), a theft of five ultrasound machines with a total value of 500,000 Euros unfortunately took place. 
Real-Time Location Systems can help to reduce equipment expenditure by avoiding theft and loss. It can also increase equipment utilisation rates to improve patient care.
First, geolocation can be used to improve the organisation of healthcare, especially by reducing the time needed to find equipment. Indeed, a patient arriving at the emergency room may not immediately be taken care of because nurses must first find a stretcher to transport him to the service. This search can take a considerable amount of time and be life-threatening if the patient is in an emergency state. Being able to act more quickly to provide care and save lives is therefore essential, and the ability to see available stretchers nearby on the hospital's map can provide assistance to nurses.
Medical equipment can be grouped by family or category to make it easier to differentiate them on the map. For example, stretchers will appear in blue, while respirators will be in green and ultrasound machines in yellow. It will then be possible to select a single category of equipment to be displayed to facilitate the reading of the map in specific situations. Indeed, when a life-threatening or traumatic emergency arrives in the hospital, the nurse will only need to select the medical equipment he or she needs on the web or mobile application to be able to determine where the nearest available equipment is located. This feature is not only helpful in the emergency unit but can be used in other services also. For example, the ICU will find it practical to quickly locate needed equipment.

Geolocation systems are also useful to reduce the amount of medical devices lost each year. Hospitals often have equipment that disappears and trying to find them is a very time-consuming task. 
With RTLS, it is possible to view all equipment present in the hospital, but also to perform location searches, which significantly reduces the time spent to find equipment. This time previously spent searching for equipment can be spent on patient care. In addition, if an equipment is left in an area for too long and is not being used, the system can send a notification so that it can be returned to the appropriate service who will not need to buy new equipment. This helps increase the utilisation rate of equipment and reduce equipment expenditure. 
RTLS can also facilitate inventory management by automating it. Indeed, in many hospitals such as the CHR of Orléans, inventories are still carried out manually, which takes a lot of time because the equipment must sometimes be checked more than once to avoid counting errors. With the application linked to the geolocation system, each type of medical equipment can be counted separately in order to save time when performing the inventory. This will also allow caregivers to anticipate and focus on patient care in the event of equipment shortages due to loss or maintenance.
Medical equipment theft is far more common than one might think. All devices can be targeted: small equipment such as endoscopes (about 20 devices stolen in 2017 at the Lyon Hospital Center), which are easy to steal and transport, but also bigger equipment such as respirators (March 2020 at the Paul d'Egine private hospital in Val-de-Marne). 
RTLS can reduce risks of medical equipment theft by sending automatic alerts based on equipment movement. This is done by defining a virtual border beyond which a type of equipment should not be located: a geofence. This can range from the entire hospital, for beds for example, to a single department for more specific equipment. When medical equipment crosses one of these virtual borders, an alert is immediately sent to the security staff who will therefore be able to intervene quickly to stop the robbery.
Finally, the regulation for traceability and maintenance of medical equipment are key for their management. Hospitals are subject to strict legislation that requires healthcare personnel to communicate the precise identification of the equipment used during a surgery in the patient's file. Established within the framework of "materiovigilance" (monitoring incidents that may occur with the use of medical devices), this regulation makes it possible to easily identify patients for whom a device belonging to a problematic batch was used. As this traceability must be effective from the moment the equipment arrives in the hospital, RTLS can facilitate this task: it will be easier for the hospital to follow the usage of the devices in the hospital as part of the logistical traceability, ensuring that each device is at the right place, at the right time. Similarly, if malfunctions are reported and the hospital has equipment belonging to this particular batch, it will be easier to locate them and return them to the supplier to avoid any potential risks for patients.
The maintenance of biomedical equipment is also subject to specific regulations, and is of three types: preventive (to ensure that the equipment is working properly and to change parts with a limited life span, subject to a pre-established schedule), corrective (to restore the equipment to working order after a malfunction) and predictive (to check the state of wear of parts to assess when an intervention will be necessary). This maintenance can be performed internally, i.e. by a team of biomedical engineers trained for it, but it is more often performed externally by a company, especially for complex imaging equipment.  
By locating the equipment that needs to undergo preventive maintenance on the same day, it will be quicker to find and isolate it to avoid having staff using it until the maintenance is completed. Similarly, if a device is defective, it will be easy to locate it and to repair it, which will save time for the biomedical teams responsible for maintenance. Also, by repairing equipment more quickly, they will be functional again more quickly and will therefore have a higher utilization rate.
Real-Time Location Systems assist healthcare personnel by automating low-added  value tasks such as inventories and equipment search, so that they can spend more time with patients.
Contact us to find out more!
As France is facing the third wave of coronavirus, the daily number of cases registered is still growing. On the 19th of April, a total of 2066 infected patients were admitted in French hospitals and 502 new patients in ICU (Intensive Care Units), twice more than the day before. Facing this increase of cases in the hospitals, and despite the "Plan Blanc" deployed in France, doctors are getting more and more worried. In Paris, hospitals are overwhelmed by new cases. Numerous questions are ahead of us: do we have the number of beds to welcome new patients with Covid symptoms and without? Will ICU have enough oxygen equipment for the new cases presenting respiratory distress? 

In some hospitals, a sorting between patients is already being discussed, favouring Covid patients at the expense of the other possible cases of hospitalisation. This can lead to rescheduling of surgeries (for some that have been planned for a long time but that are not vital) in order to face the shortage of materials in the ICU. But all these decisions will not stay without consequences on the health and comfort of the patients. It is essential to find solutions to help the medical staff in their handling of the crisis.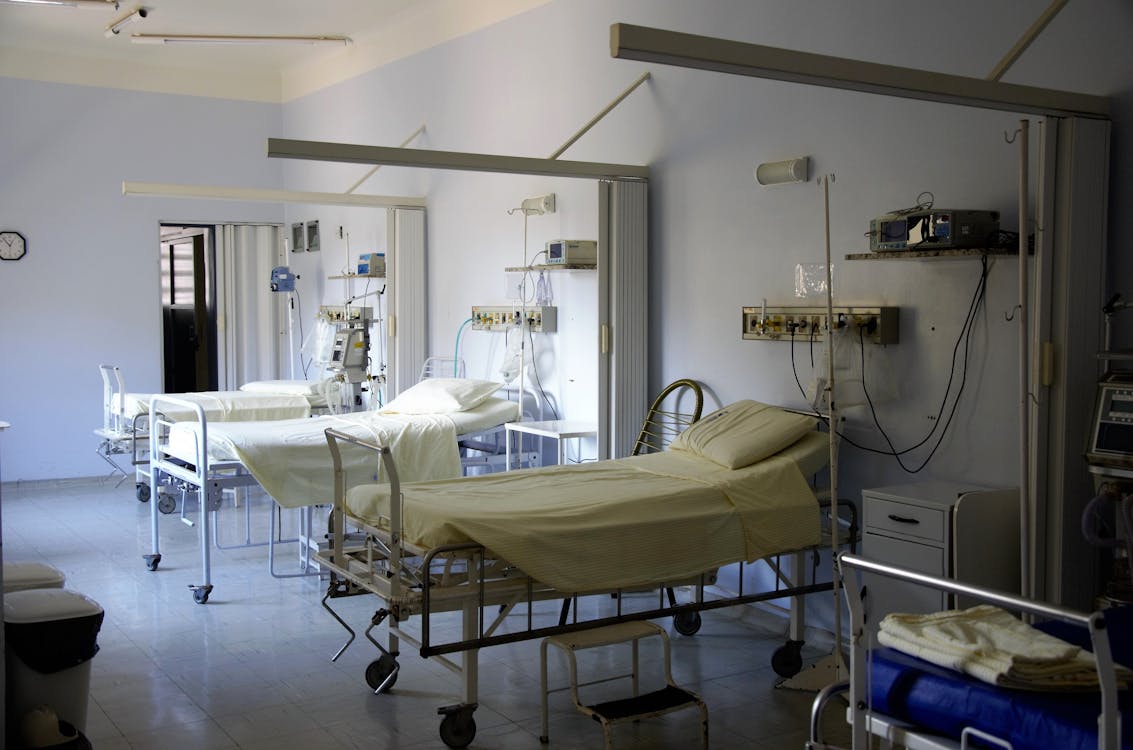 During the first wave, the congestion relief in urban hospitals was done by sending patients to less congested hospitals in the countryside. Today, geolocation can provide a less radical solution : by using Bluetooth Low Energy (BLE) radio waves, a real time location system (RTLS) can locate all types of equipment tagged with a precision of 2-3 meters. This system is takes the form of waterproof and robust IoT devices, which can be easily fixed on equipment. In hospitals, this type of geolocation system can also be used to locate beds, respirators and any other material actually needed to treat coronavirus patients, helping the medical staff by using the web and mobile app to have a quick overview of the equipments' location in all units in real time.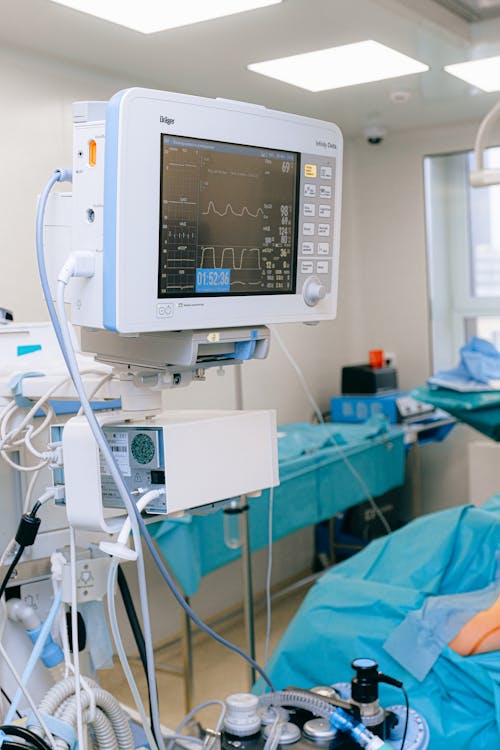 By localising all the equipment in the building, a great amount of time is saved and the medical staff can also evaluate their availability: the equipment located in a storage place will be marked as available whereas the others, located in patient' rooms, will be marked as being in use. It will be the same for beds and stretchers, the most affected by the lack of availability despite the increase of their numbers in the ICU since the beginning of the crisis. With the inventory in real time, the hospitals can more easily anticipate treatment of new Covid cases by determining how many patients can be taken care of in the units and especially in the ICU, where the influx is the most important. This way, patient care will be improved thanks to reduced waiting time which was often caused by medical staff's time spent on checking equipment' availability in the units.
Medical staff, who are exhausted and demoralised by this unprecedented sanitary crisis, will see their morale improve. Geolocation could bring practical assistance and therefore release. No need for staff to run everywhere to find an artificial respirator for a patient in respiratory distress, when they can simply see on a smartphone where the closest available respirator is. To count available equipment quickly, an option exists to calculate the number of equipment with a tag in a zone defined by the user which can go from one room to the entire hospital. Having this information on-hand makes it much easier to know the availability of equipment quickly. The time saved can be allocated back to time spent for the patients' care. Thanks to this system, there will be less weight and stress on the medical staff.
To conclude, geolocation can help improve coordination between hospitals of the public and private sectors. By closely monitoring equipment availability, it gives them the ability to anticipate the capacity each hospital has to receive new infected patients. Thus, when a healthcare facility sees that it has insufficient resources compared to the influx of patients, it will have the possibility to contact the surrounding facilities in order to allow a redirection of patients to the less overloaded hospitals and private clinics. It will be the same for a patient in the ICU: when a new case will be declared and no oxygen equipment is available, it will be possible to transfer the patients to another hospital who has the necessary equipment. Saturation of critical care capacity could therefore be avoided.
The geolocation can therefore bring strong value to hospitals by helping them manage better operations and provide better patient care for the comfort of both patients and medical staff.
The geolocation is a real advantage for the hospitals, by providing a help in the operational management of the sanitary crisis, and by improving the comfort of the patients and medical staff.
Contact us to find out more.
François Kruta, Ubudu CEO & Co-Founder, and Christophe Nicolaï, IT director at Paris Saint Joseph Hospital Group, were the guests of Thomas Hugues's TV show called Ecosystème on B-Smart TV. This new TV show aims to give voice to entrepreneurs and their partners in order to share about their successful collaboration.
Hospitals are large environments with many patients, staff and equipment moving around. The environment can be tensed and stressful because of the need to serve patients quickly and with quality. It is therefore key to avoid wasting time in unnecessary activities such as searching for beds or medical equipment.

In this perspective, the collaboration between Ubudu and Saint-Joseph's Hospital enables to improve the efficiency of the operations in the hospital whilst reducing staff and patient frustration by reducing the time it takes to find medical equipment and navigate in the hospital. More than 1,500 medical equipment are now localised inside the hospital buildings with 3m accuracy for a total coverage area of 80 000 sqm and a Mobile App with indoor wayfinding services is available for both staff and patients thanks to Ubudu RTLS.
For this strategic project, St Joseph Hospital Group selected Ubudu between 7 other companies for the following reasons:
Strong references in other sectors like manufacturing or quick-service restauration that are experts in logistics and operational efficiency,
A complete plug and play solution that is easy to deploy and maintain,
Ubudu's motivation in co-creating the solution with Saint Joseph leveraging both the technical expertise of Ubudu and the operational knowledge of Saint Joseph.
"The project has taken into consideration the needs to go fast and to be flexible in order to quickly find medical equipment or a specific wheelchair for a patient arriving and in need of assistance " 
says Christophe Nicolaï, IT director of Saint Joseph Hospital group.
The success of this project has been achieved thanks to the close collaboration between Saint Joseph and Ubudu in co-creating the solution where the needs from the hospital staff were clearly expressed by Saint Joseph in order for Ubudu to adapt its solution in the best way. For example, the Ubudu system was integrated with the Hospital's Asset Management system and the interface simplified to quickly see the location of assets by categories and sub-categories as well as filter equipment by availability.
Saint Joseph Hospital Group sees this project as a first step in a broader approach to make the hospital smarter and more connected with several use cases already identified to be developed on top of the Ubudu solution.
Starting as an engineer in the Silicon Valley, Francois Kruta participated in the creation of a tech company that was bought for 128 million USD in 2000. Then, he led the IT practice of McKinsey & Company in Banking for around 10 years before coming back to his original passions : Entrepreneurship and Technology.
During this fireside chat, François Kruta goes back to the creation of Ubudu in 2011, which started from a B2C model before quickly pivoting to a B2B model with a complete hardware & software solution developed entirely by Ubudu.
Explaining the differences between the BLE (Bluetooth Low Energy) and the UWB (Ultra Wide Band) radio technologies for indoor geolocation and proximity awareness, Francois mentioned that there is not one technology that fits all use cases and this is why having a hybrid and flexible solution is key.
Ubudu RTLS solution is creating new opportunities for organisations to optimise their operational process by reducing time wasted in unnecessary motion to focus on things that really matter and increase productivity as well as service quality.


For example, Ubudu RTLS has been implemented in Saint Joseph Hospital group in Paris to have real-time visibility on the medical equipment location and availability. This helps staff save time looking for them and therefore spend more time on value-added services to patients instead. A Mobile Wayfinding experience is also provided to visitors and patients to guide them wherever they want in the hospital (room, medical appointment, etc..)
Another company specialised in autobus manufacturing adopted Ubudu's solution in order to locate each autobus during the production process first to know the production status and secondly to save time finding the bus. The ROI for such project is less than 6 months.
Overall, Ubudu has already been deployed in more than 4 500 sites worldwide, saving more than 120 000 hours of search time every day.
Ubudu SDA solution was developed at the beginning of the sanitary crisis when companies needed short-term and practical solutions to ensure a safe workplace during the pandemic. In this context, Ubudu leveraged its deep expertise and knowledge in BLE and UWB to develop Ubudu Social Distancing Assistant, a system that helps individuals keep safe distances to protect themselves from contaminating each other in the workplace.
A key aspect of the Ubudu SDA is ensuring data privacy through GDPR compliance to make adoption of this new technology easier. Different options are available so that companies can choose to only have real-time alerts for preventing close contacts without any data stored or to store data of contacts that happened within the workforce in order to identify quickly who is at risk of being contaminated when an employee is tested positive.
Moreover, François insisted that Ubudu SDA is not a one-off investment like face-masks or hydroalcoholic gel that are thrown away after being used. Indeed, SDA Tags can be reused later after reflashing their firmware for asset tracking use cases.
In 2020, Ubudu succeeded to quickly adapt its offering during the crisis to answer critical needs from companies across the globe. This is a clear demonstration of how Ubudu's agility and expertise are driven by solving practical challenges faced by companies. The future looks bright with more and more enterprises ready to make use of indoor geolocation to make their operations more efficient and safe.
Ubudu has been selected as one of the 2020 Top 10 Healthcare Startups in Singapore by SwiftNLift professional magazine. François Kruta, Ubudu Co-Founder and CEO, shares how Ubudu has achieved this success, his experience and vision about the company he created with his childhood friend, Thomas Saphir. The passion for entrepreneurship, innovation and technologies were the key drivers for this exciting entrepreneurial adventure despite the advanced corporate careers each of them had at McKinsey and Accenture respectively.
The hunger and passion for innovation drove them straight into the Internet Of Things world and both of them knew that it was going to impact the world tremendously. Ubudu's vision consists in helping organisations optimise their operational activities by eradicating unnecessary activities or movement thanks to precise location data : Ubudu Real-Time Location System (RTLS) was born.
Working with different large companies, Ubudu understood that flexibility and ease of deployment were key to provide quick ROI for clients in different sectors. Therefore, the Ubudu RTLS evolved in line with client expectations to become one of the only true hybrid RTLS enabling quick and cost-effective large scale deployments for different use cases in different sectors: quick-service restaurants, healthcare, manufacturing and logistics.
In Healthcare, 30% of nurses spend more than 1 hour per shift searching for equipment. Moreover 20% of medical equipment is lost or misplaced which leads to millions of loss annually in hospitals. For instance, during New Year's Eve, 5 ultrasound machines have been stolen in a French hospital representing a loss of equipment worth 500 000€.
Furthermore, hospitals face challenges regarding patient flows with patients waiting long periods of time for their appointments without knowing at what time they will be finished.
Ubudu end-to-end Real-Time Location System (RTLS) allows hospitals to track any asset or person inside a building with down to 0.3m accuracy. The solution works with radio exchange between devices that are then processed by complex location algorithms. Thanks to this, Ubudu RTLS enables medical staff to have better visibility & traceability of medical equipment to save time finding and avoid theft. Ubudu RTLS has already been deployed in more than 4.500 sites worldwide and is helping to save more than 120,000 hours per day of search time.
During the COVID-19 pandemic, Ubudu clients asked for help to implement Social Distancing and Contact Tracing in their workplaces to ensure business continuity. Strong from its experience and expertise in Location Technologies, UWB (UltrawideBand) and BLE (Bluetooth Low Energy) and Software, Ubudu was able to quickly launch Ubudu Social Distancing Assistant (SDA) in April 2020.
Ubudu SDA is a small device easily wearable that keeps employees safe from each other by vibrating and shining a light when people are too close to each other (distance and duration are configurable). The response is prompt and distance measurement accuracy is 0.1m. Moreover, all contacts data is collected and stored to be visualised in a Dashboard for contact tracing and monitoring of contamination risks in the workforce. More than 30,000 Ubudu SDA tags are now being used worldwide by companies to keep their employees safe.
Throughout this difficult year, the Ubudu team has demonstrated its adaptability and resilience to contribute in the fight against the pandemic with Ubudu SDA. Ubudu is proud to have been selected by SwiftNLift as one of the Top 10 Healthcare Startups in Singapore for 2020 and is looking forward to helping more hospitals improve their efficiency and services through the use of location data.
Whilst millions of people across the world have already received the first dose of vaccine, WHO warns that collective immunity will not be reached in 2021. An important threat is the current virus variants that have been discovered in the UK and in South Africa and that have now been spreading quickly across several countries with a 50-70% higher contagious rate than the original virus. It is also unknown if more variants of the virus will appear and how effective the vaccines will be against those variants.
Many companies across the world especially in the manufacturing sector have had difficulties to continue operating whilst ensuring their employees are safe. Some unfortunately saw infection clusters happening at their premises and had to close down for a few days resulting in significant financial loss as well as human loss.

In this perspective, new technology solutions such as Ubudu SDA continue to play an important role in ensuring business continuity. More than 30,000 Ubudu SDA Tags are already being used across the globe helping to reduce the number of close contacts within the workforce by 70% within 3 weeks on average. For instance, UMW Aero has recently equipped its workforce with Ubudu SDA with the help of Ubudu local partner in Malaysia, Singularity Aerotech Asia. 
"At UMW Aerospace we take all Covid-19 related measures very seriously. We are using technology to ensure all staff maintain social distance. With the help of our friends Singularity Aerotech Asia we have introduced a small device that all of us wear. This device lights/vibrates whenever one is below the minimum distance. This works only in our facility and helps us to review any proximity concerns. My thanks to Hafeiz Hassan and his team." says Rahul Kashyap, Head of plant at UMW Aerospace
Strong from their expertise in new technologies, IOT and the manufacturing sector in Malaysia, Singularity Aerotech Asia has proven their capability to implement quickly and efficiently the Ubudu SDA solution for the benefit of companies in Malaysia where a recent resurgence of Covid-19 cases is threatening to submerge healthcare facilities. Malaysia government announced a new lockdown and state of emergency in the country on 12th of January to combat this surge of cases which has now risen to nearly 140,000 infections. With the vaccine not expected to reach most of the population before the end of 2021, more companies in Malaysia are looking to enforce social distancing among their workers.
Although Ubudu SDA solution helps in the short term to prevent the spreading of COVID-19 within the workforce, the Tags will also bring long-term value to companies by being used after the pandemic with Ubudu RTLS (Real-Time Location System) to locate precisely assets and/or workers. As explained in Ubudu solutions page, this will enable companies to improve the efficiency and safety of the plant's operations in the context of Industry 4.0 and digital transformation. For instance, by placing the tags on work orders, tools or equipment, workers will save time finding them and therefore be more productive. Other use cases include locating workers in real time to ensure all workers have evacuated the site in case of emergency or to detect if a worker has entered a dangerous zone where an accident could happen.


At Ubudu, our priority is to help companies optimise their time and provide a safe workplace. We wish to thank our clients and partners around the world for their trust and support and look forward to bringing even more value to businesses this year.
For more information, feel free to contact us here.
François Kruta (Ubudu) and Clotilde Cochinaire (Huawei) present the integrated Huawei x Ubudu solution developed in Huawei's Open Lab in Paris by both our teams.
This solution uses WiFi access points as Ultrawide Band anchors for asset tracking, worker safety, or flow analytics.
A combined solution solution : less infrastructure and more value
⏬ Find out more in the video ⏬
Don't forget to active automated English translated subtitles
Four months after the launch of the ambitious initiative, Ubudu has been selected among 300 businesses to be part of Black & Veatch's IgniteX COVID-19 Response Accelerator that arises a cohort of 18 start-ups and seasoned organisations.
What's the purpose ?
The first goal of this initiative is "to get solutions into the field as quickly as possible so they can start making an impact" according to Ryan Pletka, Vice President of Innovation at Black & Veatch. But this won't be only about bringing immediate results in terms of fighting the virus, the purpose of it all is to concretely prepare a post-COVID world with lasting value projects.
Why Ubudu ?
Ubudu was selected not only for the Social Distancing Assistant UWB tags that alert users when they come too close to another with a very high accuracy but also for all Ubudu's analytical back-end. They provide analytics on relative location, interaction time of workers and can also trace contacts in case of any contamination.
What's next ?
Hear directly from the selected companies, including Ubudu, during the upcoming IgniteX COVID-19 Response Accelerator Virtual Showcase on October 21-22, from 1-2:30 PM CST.
Click here to register to the event
Our clients observe an average decrease of the number of dangerous contacts of 70% over the 3 first weeks of implementation.
While the Social Distancing Assistant starts to show its first results thanks to contact tracing data analysis, François Kruta was on AIR last week to present Ubudu's solutions on BSMART. He also explained how Ubudu can help businesses in the industry or the healthcare sector to improve their productivity by reducing the time spent by staff searching for tools and by optimising workflows.
The Social Distancing Assistant has been developed by adapting Ubudu's historic RTLS solution based on Bluetooth Low Energy (BLE) and Ultra-Wide Band (UWB).
And you, beyond masks what do you do to ensure safety in your workplace and venues ?