Alors que la France fait face à la troisième vague de Covid 19, le nombre de nouveaux cas déclarés chaque jour ne cesse de croître. Le 19 avril 2021, ce sont 2066 nouveaux cas positifs qui ont été hospitalisés à travers tout le territoire, ainsi que 502 nouvelles réanimations, soit deux fois plus que la veille. Devant cette augmentation du nombre de cas dans les hôpitaux, et malgré le Plan Blanc déployé à travers tout l'Hexagone, les médecins tirent la sonnette d'alarme. Sur Paris, les structures de santé sont submergées devant l'afflux croissant de patients. Une multitude de questions se posent : Aurons-nous suffisamment de lits pour accueillir les patients se présentant à l'hôpital, cas Covid ou non ? En service de réanimation, y aura-t-il suffisamment de respirateurs pour tous les nouveaux cas se présentant avec une détresse respiratoire ?
Dans certains hôpitaux, on commence à envisager un « tri » des patients, favorisant la prise en charge des cas positifs au détriment des autres causes d'hospitalisation possibles. Cela va jusqu'à la déprogrammation des opérations, pour certaines prévues depuis des mois mais pour le moment non vitales, pour pouvoir pallier au manque de matériel en service de réanimation. Mais toutes ces solutions envisagées ne seront pas sans conséquences sur la santé et le confort des patients. Il est donc impératif de trouver de nouvelles solutions pour aider le personnel de santé dans la gestion de cette crise sanitaire.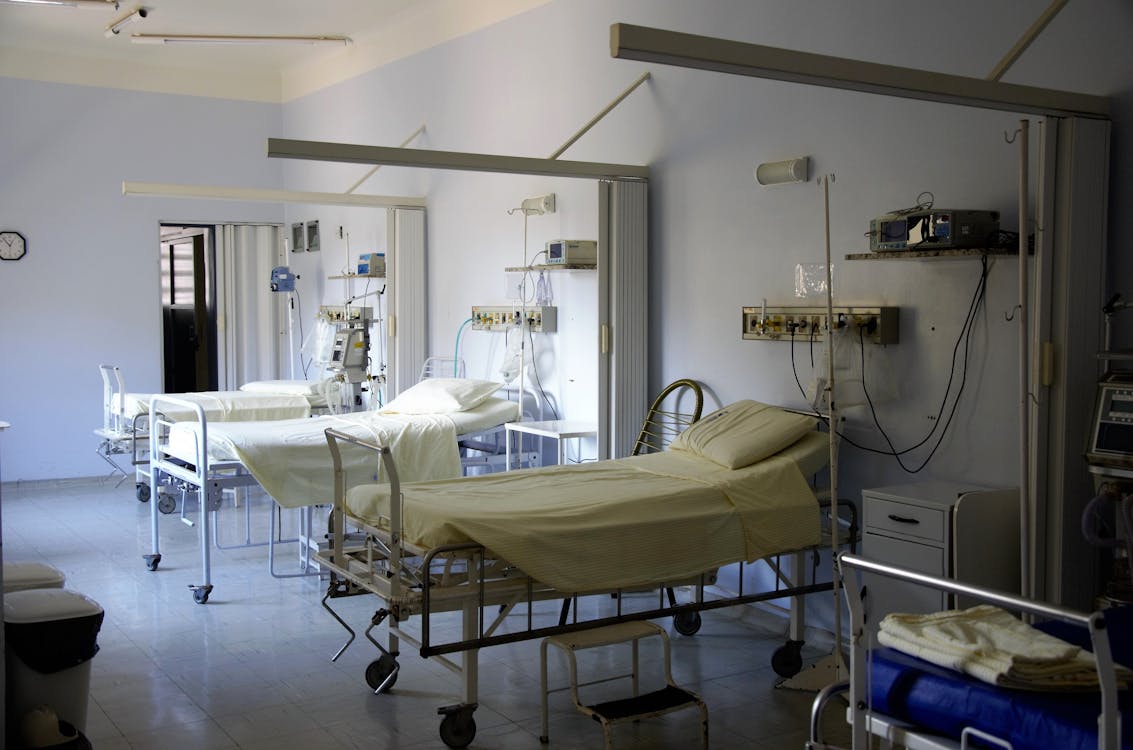 Durant les premières vagues, le désengorgement des hôpitaux des villes vers les campagnes était la solution privilégiée. Aujourd'hui, la géolocalisation pourrait atténuer cette dernière : en utilisant les ondes radios Bluetooth Low Energy (BLE), un système de géolocalisation intérieure (RTLS en anglais) permettrait de localiser en temps réel tout type d'appareil qui en serait équipé au sein d'un établissement de santé, avec une précision de l'ordre de deux mètres. Ce système se matérialise sous la forme de boîtiers étanches et robustes, que l'on peut fixer aisément sur n'importe quel appareil en le collant, aimantant ou serrant. Dans les hôpitaux, un tel système de géolocalisation peut être utilisé aussi bien pour les lits que pour les respirateurs ou tout autre équipement médical utilisé actuellement pour les cas Covid, permettant ainsi au personnel soignant, grâce à l'application web et mobile fournie avec le système, d'avoir un rapide aperçu de la localisation des équipements dans tous les services à un instant précis.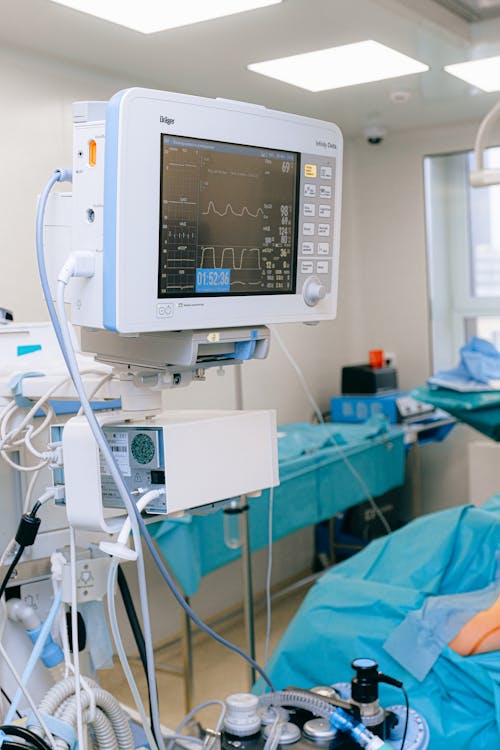 En localisant les appareils dans tout l'établissement grâce à ce système, ce qui représente un gain de temps non négligeable, les infirmiers peuvent évaluer leur disponibilité rapidement : les appareils se situant dans les lieux de stockage seront indiqués comme disponibles, tandis que ceux utilisés au moment considéré seront localisés dans les chambres des patients. Il en va de même pour les lits et les brancards, actuellement les plus concernés par ce manque de disponibilité malgré l'augmentation de leur nombre en service de réanimation depuis le début de la pandémie. En ayant une vision en temps réel de l'inventaire, les établissements de santé pourront plus aisément appréhender l'arrivée de nouveaux cas de Covid-19 en déterminant le nombre de patients pouvant encore être pris en charge dans les services et notamment en réanimation, là où l'afflux est le plus important. De cette manière, la prise en charge des patients ne peut qu'être améliorée en diminuant le temps d'attente auparavant consacré à la vérification de la disponibilité dans les services, ce qui constitue un plus pour le confort des patients.
Cela représente également un plus pour le moral des soignants, qui sont épuisés et souvent démoralisés face à cette crise sanitaire sans précédent. La géolocalisation pourrait leur fournir une aide bienvenue et un soulagement. Plus besoin pour eux de courir à travers tout l'établissement afin de trouver un respirateur de libre pour un nouveau patient en détresse respiratoire, un simple regard sur un smartphone relié au dispositif de localisation permet de voir où se trouve l'appareil disponible le plus proche. Quant au dénombrement du matériel disponible, l'application possède une option de comptage permettant de calculer automatiquement le nombre de dispositifs équipés de boîtiers dans une zone définie par l'utilisateur, pouvant aller d'une seule pièce à tout un service de l'hôpital. Il devient alors plus facile d'évaluer la disponibilité des appareils, un seul coup d'œil à ces données suffit. Ce temps ainsi gagné pourra être mis à profit pour les soins des patients. Grâce à cela, c'est un poids en moins qui pèse sur le personnel, leur ôtant une tâche supplémentaire et donc une source de stress en cette période anxiogène.
Enfin, la géolocalisation peut aider à améliorer la coordination entre les différents centres hospitaliers, du secteur public comme du secteur privé. En suivant l'évolution des disponibilités du matériel en temps réel, il leur est possible de mieux anticiper le moment où la capacité d'accueil ne sera plus suffisante pour le nombre de cas de Covid-19. De ce fait, lorsqu'un établissement de santé verra que ses places seront insuffisantes par rapport à l'afflux de patients en regardant le nombre de disponibilités via l'application de géolocalisation, il aura la possibilité de contacter les établissements alentours afin de permettre une redirection des personnes vers les hôpitaux et cliniques privées les moins surchargés. Il en va de même pour les patients en service de réanimation : lorsqu'un nouveau cas de détresse respiratoire se présente, et qu'aucun respirateur n'est disponible, il sera alors possible de le transférer vers un autre hôpital disposant des équipements nécessaires pour le prendre en charge. Les submersions des services pourront ainsi être évitées.
La géolocalisation présente donc un véritable avantage pour les hôpitaux, en apportant une aide pour la gestion opérationnelle de la crise sanitaire, mais aussi en améliorant le confort des patients et des soignants.
Contactez-nous pour en savoir plus.
François Kruta, Ubudu CEO & Co-Founder, and Christophe Nicolaï, IT director at Paris Saint Joseph Hospital Group, were the guests of Thomas Hugues's TV show called Ecosystème on B-Smart TV. This new TV show aims to give voice to entrepreneurs and their partners in order to share about their successful collaboration.
Hospitals are large environments with many patients, staff and equipment moving around. The environment can be tensed and stressful because of the need to serve patients quickly and with quality. It is therefore key to avoid wasting time in unnecessary activities such as searching for beds or medical equipment.

In this perspective, the collaboration between Ubudu and Saint-Joseph's Hospital enables to improve the efficiency of the operations in the hospital whilst reducing staff and patient frustration by reducing the time it takes to find medical equipment and navigate in the hospital. More than 1,500 medical equipment are now localised inside the hospital buildings with 3m accuracy for a total coverage area of 80 000 sqm and a Mobile App with indoor wayfinding services is available for both staff and patients thanks to Ubudu RTLS.
For this strategic project, St Joseph Hospital Group selected Ubudu between 7 other companies for the following reasons:
Strong references in other sectors like manufacturing or quick-service restauration that are experts in logistics and operational efficiency,
A complete plug and play solution that is easy to deploy and maintain,
Ubudu's motivation in co-creating the solution with Saint Joseph leveraging both the technical expertise of Ubudu and the operational knowledge of Saint Joseph.
"The project has taken into consideration the needs to go fast and to be flexible in order to quickly find medical equipment or a specific wheelchair for a patient arriving and in need of assistance " 
says Christophe Nicolaï, IT director of Saint Joseph Hospital group.
The success of this project has been achieved thanks to the close collaboration between Saint Joseph and Ubudu in co-creating the solution where the needs from the hospital staff were clearly expressed by Saint Joseph in order for Ubudu to adapt its solution in the best way. For example, the Ubudu system was integrated with the Hospital's Asset Management system and the interface simplified to quickly see the location of assets by categories and sub-categories as well as filter equipment by availability.
Saint Joseph Hospital Group sees this project as a first step in a broader approach to make the hospital smarter and more connected with several use cases already identified to be developed on top of the Ubudu solution.
Starting as an engineer in the Silicon Valley, Francois Kruta participated in the creation of a tech company that was bought for 128 million USD in 2000. Then, he led the IT practice of McKinsey & Company in Banking for around 10 years before coming back to his original passions : Entrepreneurship and Technology.
During this fireside chat, François Kruta goes back to the creation of Ubudu in 2011, which started from a B2C model before quickly pivoting to a B2B model with a complete hardware & software solution developed entirely by Ubudu.
Explaining the differences between the BLE (Bluetooth Low Energy) and the UWB (Ultra Wide Band) radio technologies for indoor geolocation and proximity awareness, Francois mentioned that there is not one technology that fits all use cases and this is why having a hybrid and flexible solution is key.
Ubudu RTLS solution is creating new opportunities for organisations to optimise their operational process by reducing time wasted in unnecessary motion to focus on things that really matter and increase productivity as well as service quality.


For example, Ubudu RTLS has been implemented in Saint Joseph Hospital group in Paris to have real-time visibility on the medical equipment location and availability. This helps staff save time looking for them and therefore spend more time on value-added services to patients instead. A Mobile Wayfinding experience is also provided to visitors and patients to guide them wherever they want in the hospital (room, medical appointment, etc..)
Another company specialised in autobus manufacturing adopted Ubudu's solution in order to locate each autobus during the production process first to know the production status and secondly to save time finding the bus. The ROI for such project is less than 6 months.
Overall, Ubudu has already been deployed in more than 4 500 sites worldwide, saving more than 120 000 hours of search time every day.
Ubudu SDA solution was developed at the beginning of the sanitary crisis when companies needed short-term and practical solutions to ensure a safe workplace during the pandemic. In this context, Ubudu leveraged its deep expertise and knowledge in BLE and UWB to develop Ubudu Social Distancing Assistant, a system that helps individuals keep safe distances to protect themselves from contaminating each other in the workplace.
A key aspect of the Ubudu SDA is ensuring data privacy through GDPR compliance to make adoption of this new technology easier. Different options are available so that companies can choose to only have real-time alerts for preventing close contacts without any data stored or to store data of contacts that happened within the workforce in order to identify quickly who is at risk of being contaminated when an employee is tested positive.
Moreover, François insisted that Ubudu SDA is not a one-off investment like face-masks or hydroalcoholic gel that are thrown away after being used. Indeed, SDA Tags can be reused later after reflashing their firmware for asset tracking use cases.
In 2020, Ubudu succeeded to quickly adapt its offering during the crisis to answer critical needs from companies across the globe. This is a clear demonstration of how Ubudu's agility and expertise are driven by solving practical challenges faced by companies. The future looks bright with more and more enterprises ready to make use of indoor geolocation to make their operations more efficient and safe.
Ubudu has been selected as one of the 2020 Top 10 Healthcare Startups in Singapore by SwiftNLift professional magazine. François Kruta, Ubudu Co-Founder and CEO, shares how Ubudu has achieved this success, his experience and vision about the company he created with his childhood friend, Thomas Saphir. The passion for entrepreneurship, innovation and technologies were the key drivers for this exciting entrepreneurial adventure despite the advanced corporate careers each of them had at McKinsey and Accenture respectively.
The hunger and passion for innovation drove them straight into the Internet Of Things world and both of them knew that it was going to impact the world tremendously. Ubudu's vision consists in helping organisations optimise their operational activities by eradicating unnecessary activities or movement thanks to precise location data : Ubudu Real-Time Location System (RTLS) was born.
Working with different large companies, Ubudu understood that flexibility and ease of deployment were key to provide quick ROI for clients in different sectors. Therefore, the Ubudu RTLS evolved in line with client expectations to become one of the only true hybrid RTLS enabling quick and cost-effective large scale deployments for different use cases in different sectors: quick-service restaurants, healthcare, manufacturing and logistics.
In Healthcare, 30% of nurses spend more than 1 hour per shift searching for equipment. Moreover 20% of medical equipment is lost or misplaced which leads to millions of loss annually in hospitals. For instance, during New Year's Eve, 5 ultrasound machines have been stolen in a French hospital representing a loss of equipment worth 500 000€.
Furthermore, hospitals face challenges regarding patient flows with patients waiting long periods of time for their appointments without knowing at what time they will be finished.
Ubudu end-to-end Real-Time Location System (RTLS) allows hospitals to track any asset or person inside a building with down to 0.3m accuracy. The solution works with radio exchange between devices that are then processed by complex location algorithms. Thanks to this, Ubudu RTLS enables medical staff to have better visibility & traceability of medical equipment to save time finding and avoid theft. Ubudu RTLS has already been deployed in more than 4.500 sites worldwide and is helping to save more than 120,000 hours per day of search time.
During the COVID-19 pandemic, Ubudu clients asked for help to implement Social Distancing and Contact Tracing in their workplaces to ensure business continuity. Strong from its experience and expertise in Location Technologies, UWB (UltrawideBand) and BLE (Bluetooth Low Energy) and Software, Ubudu was able to quickly launch Ubudu Social Distancing Assistant (SDA) in April 2020.
Ubudu SDA is a small device easily wearable that keeps employees safe from each other by vibrating and shining a light when people are too close to each other (distance and duration are configurable). The response is prompt and distance measurement accuracy is 0.1m. Moreover, all contacts data is collected and stored to be visualised in a Dashboard for contact tracing and monitoring of contamination risks in the workforce. More than 30,000 Ubudu SDA tags are now being used worldwide by companies to keep their employees safe.
Throughout this difficult year, the Ubudu team has demonstrated its adaptability and resilience to contribute in the fight against the pandemic with Ubudu SDA. Ubudu is proud to have been selected by SwiftNLift as one of the Top 10 Healthcare Startups in Singapore for 2020 and is looking forward to helping more hospitals improve their efficiency and services through the use of location data.
Whilst millions of people across the world have already received the first dose of vaccine, WHO warns that collective immunity will not be reached in 2021. An important threat is the current virus variants that have been discovered in the UK and in South Africa and that have now been spreading quickly across several countries with a 50-70% higher contagious rate than the original virus. It is also unknown if more variants of the virus will appear and how effective the vaccines will be against those variants.
Many companies across the world especially in the manufacturing sector have had difficulties to continue operating whilst ensuring their employees are safe. Some unfortunately saw infection clusters happening at their premises and had to close down for a few days resulting in significant financial loss as well as human loss.

In this perspective, new technology solutions such as Ubudu SDA continue to play an important role in ensuring business continuity. More than 30,000 Ubudu SDA Tags are already being used across the globe helping to reduce the number of close contacts within the workforce by 70% within 3 weeks on average. For instance, UMW Aero has recently equipped its workforce with Ubudu SDA with the help of Ubudu local partner in Malaysia, Singularity Aerotech Asia. 
"At UMW Aerospace we take all Covid-19 related measures very seriously. We are using technology to ensure all staff maintain social distance. With the help of our friends Singularity Aerotech Asia we have introduced a small device that all of us wear. This device lights/vibrates whenever one is below the minimum distance. This works only in our facility and helps us to review any proximity concerns. My thanks to Hafeiz Hassan and his team." says Rahul Kashyap, Head of plant at UMW Aerospace
Strong from their expertise in new technologies, IOT and the manufacturing sector in Malaysia, Singularity Aerotech Asia has proven their capability to implement quickly and efficiently the Ubudu SDA solution for the benefit of companies in Malaysia where a recent resurgence of Covid-19 cases is threatening to submerge healthcare facilities. Malaysia government announced a new lockdown and state of emergency in the country on 12th of January to combat this surge of cases which has now risen to nearly 140,000 infections. With the vaccine not expected to reach most of the population before the end of 2021, more companies in Malaysia are looking to enforce social distancing among their workers.
Although Ubudu SDA solution helps in the short term to prevent the spreading of COVID-19 within the workforce, the Tags will also bring long-term value to companies by being used after the pandemic with Ubudu RTLS (Real-Time Location System) to locate precisely assets and/or workers. As explained in Ubudu solutions page, this will enable companies to improve the efficiency and safety of the plant's operations in the context of Industry 4.0 and digital transformation. For instance, by placing the tags on work orders, tools or equipment, workers will save time finding them and therefore be more productive. Other use cases include locating workers in real time to ensure all workers have evacuated the site in case of emergency or to detect if a worker has entered a dangerous zone where an accident could happen.


At Ubudu, our priority is to help companies optimise their time and provide a safe workplace. We wish to thank our clients and partners around the world for their trust and support and look forward to bringing even more value to businesses this year.
For more information, feel free to contact us here.